World War II Magazine, July 1986 Vol. 1 No. 2
$4.99
World War II Magazine, July 1986 Vol. 1 No. 2

Cover Story: Katyusha Rockets Operation Greif Fight for Stalingrad
18 Siege Without Purpose By Bruce R. Pirnie
Hitler's campaign on the eastern front took an unanticipated swing toward the Caspian oil fields. But with inadequate resources, the Wehrmacht's disaster at Stalingrad was a forgone conclusion.
Feature Articles
28 Past All Defenses By Richard Compton-Hall
Holed up in a deep Norwegian fjord, "The Beast," as Churchill called the Tirpitz, was immune from regular air, sea, or submarine attack – there the midgets challenged her.
34 Further Escape Denied By Richard Mathews
The difficult mission of Connolly's Task Force was to contain the main Japanese army in the mountains of Luzon. Toruous trails over narrow mountain passes were the only escape routes for the enemy.
42 Through Flak and Firestorm By Robert J. Seese
Assigned to bomb a secret target in a low-level, daytime raid – with no aerial reconnaissance for briefing – more than 1,700 air crewmen encountered devastating flak and flew through firestorms of their own making at Ploesti.
Downloadable PDF
Description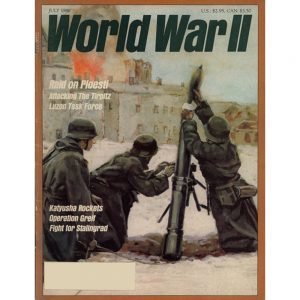 World War II Magazine, July 1986 Vol. 1 No. 2